QuickBooks Merchant Services For Desktop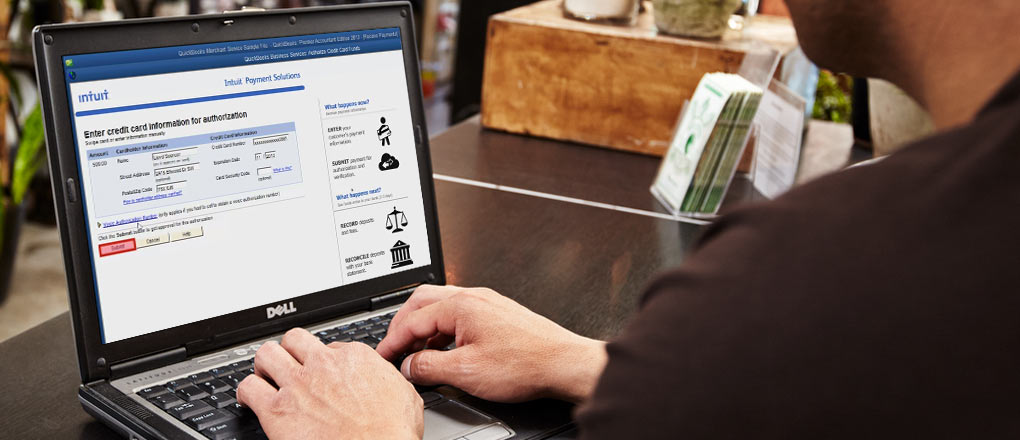 Want to learn more?
Call 1-877-860-3321 to turn on Merchant Service.1
Get paid fast
Make it easy for customers to pay you with Visa, MasterCard, American Express and debit cards. Rates as low as 1.69%.2 Click here to see our rates and fees.
Save time
Customer payments processed in QuickBooks sync automatically with your records and invoices.
Access anytime, anywhere

Accept card payments three ways: in QuickBooks, on the web, or on your mobile device with the free mobile card reader.3
We don't lock you in:
Try it risk free! Cancel anytime. QuickBooks Books Merchant Services has no long-term contracts or termination fees.4
Important pricing terms, offer details and disclosures
QuickBooks Merchant Service works with all QuickBooks Desktop 2012 products and up except EasyStart (all sold separately). Application approval, an Internet connection on a Windows PC, Internet Explorer 6.0, 7.0, or 8.0, and a USB 1.1 port are required. Payments service sold separately from QuickBooks. Transaction fees apply. Additional fees may apply for specific occurrences (including but not limited to: $20 for chargebacks, $20 NSF and$0.95/ voice authorization). Transactions are subject to Association guidelines. Qualified or Card swiped rate requires K23 PIN pad, sold separately. Processing and settlement in Canadian dollars. Terms, conditions, features, pricing, service, and support options are subject to change without notice.
VISA & MasterCard:
(i) Qualified rate is 1.69%+0.10% CBF (card brand fee); 1.69% rate applies to electronically authorized CAD transactions (swiped through the K23 PIN Pad) involving Canadian issued consumer cards. Non-qualified transactions are subject to an additional 0.5% fee and may be subject to an additional fee depending on the card type. 0.10% Card Brand Fee applies to gross VISA and MasterCard sales, excluding returns, refunds and voided transactions. Different discount rates apply for American Express transactions and are determined directly by American Express.
(ii) Non-qualified rate is 2.30% VISA / 2.32% MasterCard + 0.10% CBF; rates apply to keyed-in, non-qualified standard transactions. Additional VISA/MasterCard fees may apply for certain transactions (also known as non-qualified transactions) including, but not limited to, transactions involving non-Canadian issued cards, corporate cards, purchasing cards, fleet cards, high spend or premium high spend cards. 0.10% Card Brand Fee applies to gross VISA and MasterCard sales, excluding returns, refunds and voided transactions.
(iii) Monthly minimum discount fees are $10 VISA and $10 MasterCard; if merchant does not accumulate $10 of discount fees in a given month for VISA and / or MasterCard, then an incremental transaction fee will be charged to bring the sum of discount fees up to $10. For example, if the VISA discount fees for the month equal $8, then a $2 charge would occur to bring total discount fees for VISA to $10 for the month. The same assessment would occur to bring the total MasterCard discount fees to $10.

GoPayment credit card reader offer available while supplies last. Free Intuit GoPayment Credit Card Reader is compatible only with iOS phones. Credit card transactions made with the GoPayment , or on the web portal does not sync with QuickBooks. GoPayment mobile card reader and web portal only accepts Visa and MasterCard transactions.
Merchants may cancel their service at anytime by providing 10 business days' advance written notice. Merchants can continue to process payments during the notice period. Rental equipment must be returned within 30 days of the termination date or Merchant will be charged the retail price for the equipment. Contact Intuit customer service at 1-877-860-3321 to cancel your service.
VISA® is a registered trademark of Visa International Service Association. MasterCard® is a registered trademark of MasterCard International, Inc. American Express is a registered trademark of American Express Company. INTERAC is a registered trademark of Interac Inc., authorized user of the mark. These providers are not sponsors of or directly affiliated with Intuit Merchant Service for QuickBooks.